I. Introduction with the machine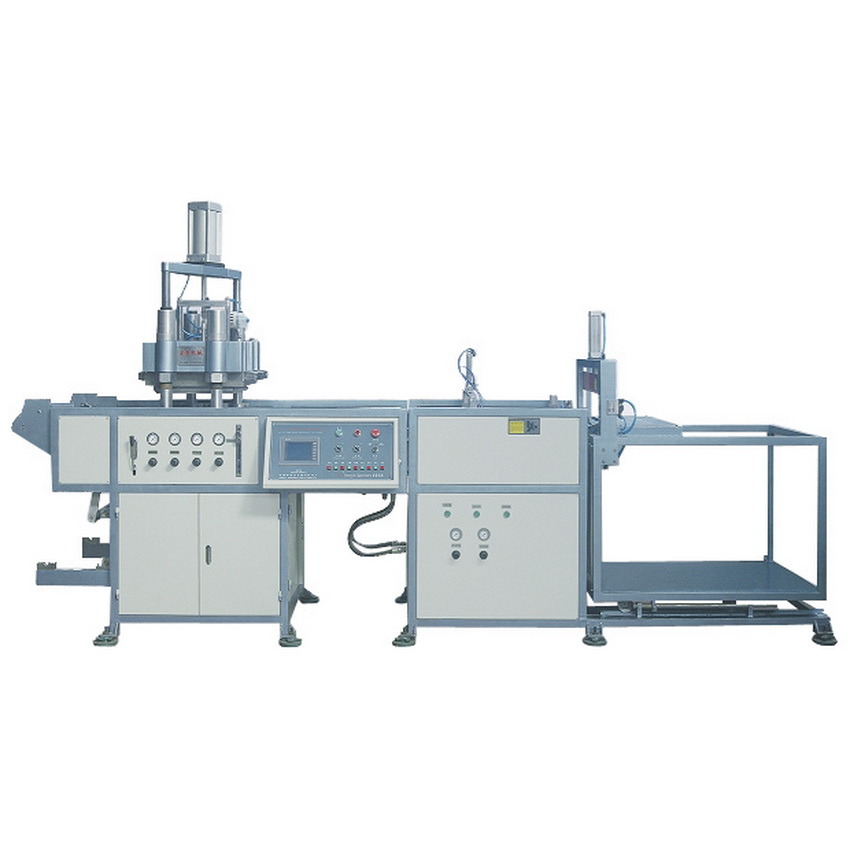 HY-510580B plastic thermoforming machine is a combination of mechanical, electrical and pneumatic components, and the whole system was controlled by a micro PLC, which can be operated in man-interface. It combines the material sending, heating, forming info one process. It has three operation models. " manual", " semi-automatic" and "automatic, so it is a new generation ideal package equipment telecommuting and memory reserve functions.
II. Application area:
It is suitable to form BOPS, HIPS, PS, PVC, and PET plastic sheets, etc., which can produce various of boxes, dishes, trays, bowls and lids, such as food boxes, cake boxes, fast-food boxes, supermarket trays, oral liquids trays, etc.
III. The vacuum machine main introduction:
1. Control system:
The whole machine adopts PLC to control the production technical process, tail remember of modern computer.
2. Automatic feeding sheet:
Large alone diameter cylinder type automatic material feeding frame. It can put one rolls material into the feeding frame in advance, about feeding there has two traction roll to translate the sheet that assurance of high speed operation and stability and correctness Greatly saves manpower and Ensure the smooth feed material at a high speed.
3. Heating part:
Heater adopts high-quality heating plate to heating. The heat plate heating evenly and close to the sheet, it can keep the plastic sheet to heating enough and can be better for forming.
4. Mold forming and cutting:
The vacuum machine adopts positive pressure forming, it can combine the alone cutting machine to finish punching edge.
5. The product cooling:
The machine is equipped with wind cool, water cool chassis and high-speed cold water spraying device to speed up molding in order to assure the quality of moldings. Cooling delay, cooling time, Water spray delay, spray time, adjust the length of the time according to different products.
IV. About Ruian Hongyin Machinery Co., Ltd Service.
1. Purchase Service
Ruian Hongyin Company has a specialize and efficiency working team. If you are new on the printing and packing area, Some samples of your products could be shew to us will be appreicate, we will give you specialized suggestion of whole work.
2. Installation Service:
Hongyin company will assign 1 technician to coordinate installation, commissioning and training, cost for return flight and suitable accommodation will be charged, and the allowance is USD 80-100 per day.
3. Warranty Service:
12 months limited warranty.
Starting from the date of machine arrival buyer's place excluding wear parts.
Shipping cost for easy broken parts to be replaced during the warranty period have to be borne by the customer.
If you are interested in our machine, please feel free and contact me.
Contacter: Michael Rao
Fax: 0577 6555 3321
Website: HTTP: //www. Hongyin. Cn
Www. China-hongyin. COM
| | |
| --- | --- |
| 1\Forming area:510×580mm | 2\Forming depth:100mm |
| 3\Sheet thickness range:0.1-1.2mm | 4\Sheet roller diameter:710mm |
| 5\Semi-automatic: Yes | 6\Ari pressure:0.7Mpa |
| 7\Water consumption: Liters/min(15-20ºC) | 8\Air consumption:1800 Liters/min |
| 9\Speed:600-1500 Liters/min | 10\Power:3-N AC380V±10% 50HZ |
| 11\Preheater power:2kw | 12\Mould plate heating power:4.8kw |
| 13\Heating plate power:15kw | 14\Sheet width:650mm |
| 15\Weight:2000kg | 16\Dimension(L×W×H): 4150×1150×2160×(mm) |