The

Plastic Vacuum Forming Machine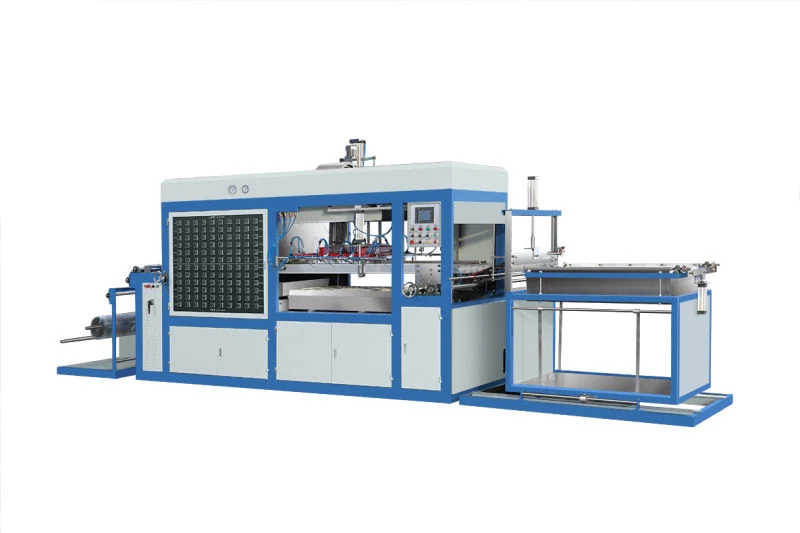 I.
The vacuum forming machine application range:
HY-710/1200 forming machine is mainly applied to plastic sheet material molding, such as PS, HIPS, PVC, PET, PP and flocking sheet, etc. Which produce all kinds of trays, trays for medicine injection, oral liquid, vegetables, telephones, cookies, tool, hardware, electron and disposable tableware, etc.
1. Forming area

710*1200mm

(

can change

)

2. Sheet width

610-760mm

(

can change

)

3. Forming height

0-165mm

4. Thickness of sheet

0.15-1.0mm

5. Production speed

200-600times/hour

6. Mould-up move

Electromotion

7. Electric oven power

30 KW

8. Heating device

60 independent electronics non pole adjust

9. Traction motor power

2.2KW

10. Vacuum pump power

3.0 KW

11. Cooling-water machine power

3.37 KW

12. Power

380V 50/60Hz three phases

13. Air compressor

15KW/20HP (remarked by customer)

14. Dimension

(L)6600*(W)1450*(H)2800mm

15. Weight

3000kg
II.
The vacuum machine overview:
HY-710/1200 Automatic vacuum forming machine is designed by the principle of mechanical-electrical-pneumatic integration. It adopts PLC control system, panel and digital power control. This full-automatic forming equipment for thermoforming plastic sheet includes feeding, heating, forming, cooling, mold ejecting, cutting by one process.
III. The vacuum machine main introduction:
1. Control system:
Whole machine adopts PLC to control the production technical process, tail remember of modern computer.
2. Automatic feeding sheet:
Large alone diameter cylinder type automatic material feeding frame. It can put two rolls material into the feeding frame in advance, about feeding there has two-row chain with tine translate the sheet that assurance of high speed operation and stability and correctness Greatly saves manpower and Ensure the smooth feed material at a high speed.
3. Heating part:
Heater adopts 60 pieces infrared ceramic heating bricks. Each heating brick has itself solid regulator to control temperature, saving more than 50% electricity compared with the traditional machine.
4. Mold forming:
The vacuum machine is adopt negative forming and the mold can make concave or convex mold are all no problem, it will be according the product to design.
5. The product cooling:
The machine is equipped with wind cool, water cool chasis and high speed cold water spraying device to speed up molding in order to assure the quality of moldings. Cooling delay, cooling time, Water spray delay, spray time, adjust the length of the time according to different products.
6. Demould:
It can adjust the size of bottom blowing, according to the length of time; Another is equipped with vibration demould, can be arbitrary adjust the wave frequency and amplitude, in view of the complex products difficult demoulding and setting.
7. Traction to send sheet:
Use the high power 2.2 KW motor Traction to send sheet: Adopt Taiwan decelerating motor, Import the encoder and the Man-machine interface pulse to control the precision and speed of feeding sheet; In addition, it can set time control the sheet length for standby.
8. About the cutting for the product:
Adopt the alone cutting machine or the on-line automatic cutting machine to punching the product sheet.
IV. The vacuum forming machine related picture preview.
1. The main machine and related auxiliary machine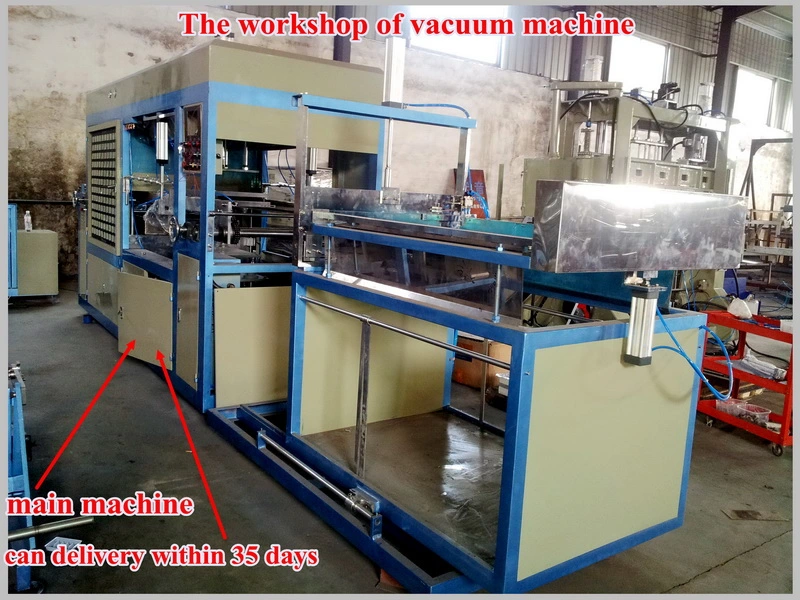 2. The vacuum forming machine in workshop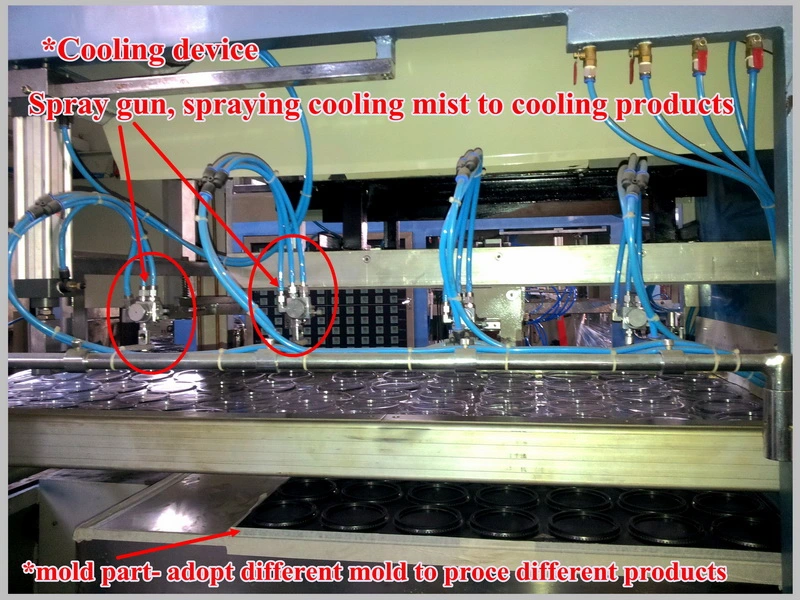 3. The manufacture samples come from vacuum machine produce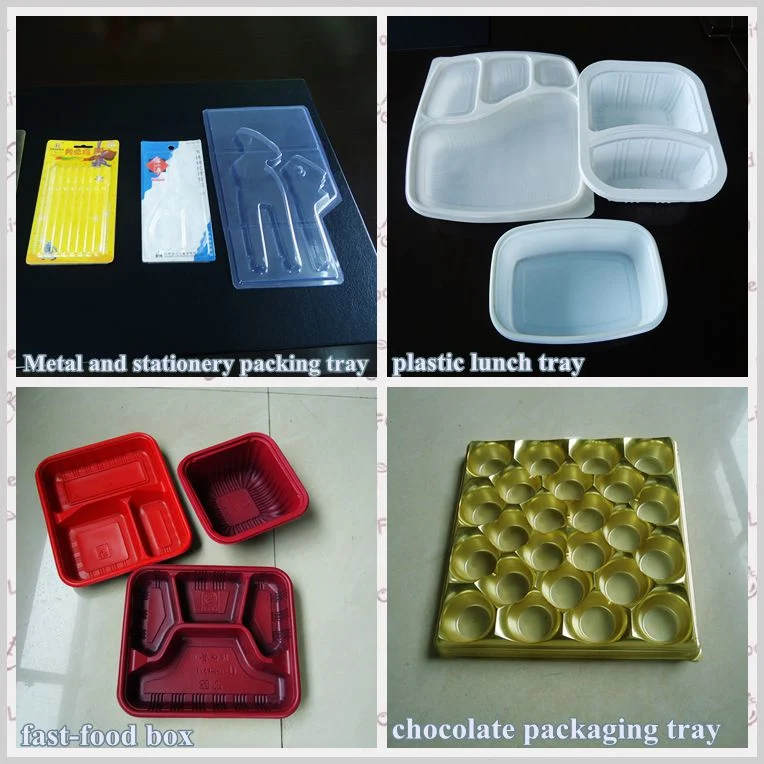 V.

About Ruian Hongyin Machinery Co., Ltd Service.
1. Purchase Service
Ruian Hongyin Company have a specialize and efficiency working team. If you are new on the printing and packing area, Some samples of your products could be shew to us will be appreicate, we will give you specialized suggestion of whole work.
2.
I
nstallation Service:
Hongyin company will assigned 1 technician to coordinate installation, commissioning and training, cost for return flight and suitable accommodation will be charged, and the allowance is USD 80-100 per day.
3. Warranty Service:
12 months limited warranty.
Starting from the date of machine arrival buyer's place excluding wear parts.
Shipping cost for easy broken parts to be replaced during warranty period have to be borne by the customer.
If you are interested in our machine, please feel free and contact me.
Contacter: Michael Rao