HY-660 plastic cup thermoforming machine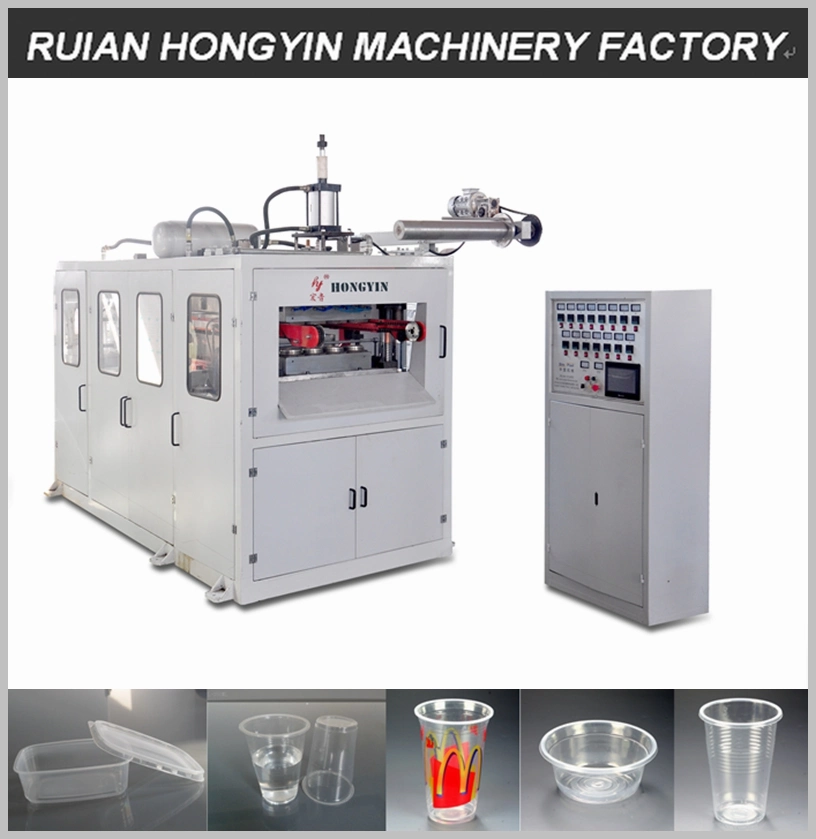 I. HY-660C Plastic cup thermoforming machine.
660 thermoforming machine is a combination of mechanical, electrical and pneumatic components, and the whole system was controlled by micro PLC. It operates with man-interface, which can work all by itself. It combines the material feeding, heating, drawing, forming, cutting and transporting into one process.
Plastic forming machine is mainly used for production, production of disposable tableware, cold drink cup, yogurt cup, jelly cup, ice cream cup, snack box, plastic bowl, milk tea cover, etc. At the same time also can processing medicine, light industry, textile, tourism, toys, and other relevant plastic packaging products.
II. The cup machine features:
Automatic plastic cup Machine is new equipment, which has been developed and produced with many years of machine producing experiences of our company, it uses stable hydraulic system and pneumatic technology to control together, its operation is stable, noise is small, mold locking ability is strong and quality is high. It mainly consists of forming machine, material rack, material receiving machine and screen controlled by electricity.
1. The high efficiency, energy saving, safety, environmental protection, high qualified products.
2. The machine set piece, heating, stretching to send, molding, cut one-time completed.
3. Machine, electricity, gas integration; Have manual, semiautomatic, automatic three operation function.
4. Raw materials to adapt to the machine widely. Such as PS, PP, PVC, PET, ABS and other plastic material all can manufacture.
5. The machine is completely automatic, productive speed is fast. Different products can be produced with different molds.
6. It uses import famous brands of electric and pneumatic fittings, so the operation is stable, quality is reliable and life is long.
7. The design of the mold is advanced and special, heat the thermoplastic plastic flake board and put on the mold, pull the piston, give the pressure to the air, keep the flake board close to the inside of the mold to form, then, cut and automatically blow the product. The structure of the whole machine is compact, one mold has all the functions, like pressure giving, forming, cutting, cooling, and finished product blowing, so the process is short, quality of the finished product is high and matches with national sanitary standard.
I. Main Technical Parameter

1\ Power Supply
380V/3P/50HZ
2\ Material
PP/PS/PET/PVC plastic thermoforming sheet
3\ Driving Method
Cam+ Air cylinder
4\ Forming Area
660×320mm
5\ Sheet Thickness
0.25~2.0mm
6\ Forming Speed
20-35cycles/min (forming depth≤130mm)
7\ Sheet Width
W=660mm (adjustable)
8\ Air Pressure
0.6~0.8Mpa
9\ Air Consumption
2200L/min
10\Air Compressor Exhausting Capacity
2200~3000L/min
11Water Consumption
0.5m3
10 Machine Dimension
3.7×1.5×2.5m
11 Electrical Consumption
Approx. 45KW
II. Machine Configuration
A. Forming Machine
1. Machine Frame
Square Steel Size 75×75:120 model Channel Steel:machine base is welding by extra steel plate with thickness=16mm
2. Machine Door
The top part of the door with observation window from the operation side, Heating oven could move outside
3. Mold Plate
QT500 nodular cast iron, pore-free, sand free
4. Pillar
2-pillar dia. = 80mm ,40Cr steel thermal refining ,hard chrome plating,mirror finish:Gide bushing Dia.≤200mm,Material: matel ceramic Zns.
5. Worm Wheel
Standard Model 210, made in Taiwan
6. Motor
P-5.5KW (4P)
7. Sheet Thickness
0.3~2.0mm
8. Max. Forming Aare
660×320mm
9. Running Speed
≤35cycles/min
10. Stretching Air Cylinder
Φ125×125mm
11. Solenoid Valve
SMC, Japan
B. Sheet Feeding Device
1 Pin-Chain Railway
45# Steel Forgings after nitridation process with hardness: HV740.
2 Pin-Chain Railway Cooling Method
Top part and side part cooling by water
C. Sheet Feeding Structure
1.Sheet Feeding Precise
Within ±0.5cm
2. Within ±0.5cm
2.2KW with Inverter
D. Top & Bottom Heating Oven
1 Oven Structure
Top & Bottom
2 Material of Oven
304# stainless steel board
3 Temperature Control Method
PID K-Type,output adopts voltage adjustor, temperature Precise: ±1ºC Made in China
4 Cradle For Oven
Made by 120 model and 100 model channel steel
5 Oven Movement Cylinder
Made in China
6.IR Ceramic Heater
IR Ceramic Heater, Size:240×80mm:Top oven: machine direction 7pcs*8zones:Bottom oven: machine direction 8pcs*8zones:total: 120pcs, Power: 650W/pcs, made in Jiangsu, China
E. Unwinding Rack & Waste Sheet Winder
Waste Sheet Winder
Motor Power: 0.37KW
Worm Wheel
Made in China
III. About the related auxiliary machine
1.Screw type air compressor
18.5kw/h 3 m3/min
2.Air tank
1.0 m3
3.Chiller
3-5HP
4.Plastic cup stacker
20000-40000(PCS/H)
5.Packaging&counting machine
Can choose packing 1-2 row
III. About Ruian Hongyin Machinery Co., Ltd Service.
1. Purchase Service
Ruian Hongyin Company has a specialize and efficiency working team. If you are new in the printing and packing area, Some samples of your products could be shew to us will be appreciated, we will give you specialized suggestions for the whole work.
2. Installation Service:
Hongyin company will assign 1 technician to coordinate installation, commissioning and training, the cost for return flight and suitable accommodation will be charged, and the allowance is USD 80-100 per day.
3. Warranty Service:
12 months limited warranty.
Starting from the date of machine arrival buyer's place excluding wear parts.
Shipping cost for easy broken parts to be replaced during warranty period have to be borne by the customer.
If you are interested in our machine, please feel free and contact me.
Contacter: Michael Rao
Fax: 0577 6555 3321
Website: HTTP: //www. Hongyin. Cn
cnhongyin.en.made-in-china.com