PPBG-600 series automatic positive and negative pressure hot forming machine is the first innovative new product developed by our scientific researchers according to market demand and previous technical accumulation. This series of machine is a multi-station automatic machinery, not only effectively solve the PP/PS/PET/PVC / / PLA plastic products such as capital, labor input in production is too large and complex production process, low product health security problems, which are very versatile, can be used in food, medicines, hardware, gifts and so on PLA/PP/PET/PS/PC/ABS/PVC and other plastic products production, equipment stability, elegant, cost-effective, favored by domestic and foreign customers!
Feature:
1) Control system: The machine realizes the full automatic control of the equipment through the combination of PLC, 3D industrial man-machine interface, servo motor, photoelectric, temperature module and other systems. The operation is simple and intuitive, reducing the requirements of operation technicians, and zero basic staff can operate is our pursuit.

2) Traction: High-power servo traction sheet feeding device ensures the traction length of sheet (thickness: 0.1mm-1.5mm) and accuracy: ±0.05mm.

3) Structure: The four driving stations of forming, punching, punching and stacking are independently controlled by Delta servo motor. The five-sided machining center imported from Germany has refined carving, which ensures high efficiency and stability of production with high precision.

4) Forming: far-infrared ceramic heating brick, super long upper and lower heating system and positive and negative pressure forming device are adopted to ensure the high difficulty material and temperature resistant material can be heated evenly, baked thoroughly, multi-function forming control, ensure the product thickness is uniform and the appearance is exquisite, and ensure the yield reaches 99.9%.

5) Molds: aluminum alloy (imported breathable aluminum) for forming molds is CNC precision engraving and milling, with positive and negative pressure and water circulation structure; The punching mould is made of DC53 steel hardware knife or laser knife (depending on the product); The punching die is made with a movable structure laser cutter, which improves the punching accuracy (within ±0.2mm error), reduces the cost of the die, shortens the manufacturing cycle of the die, and makes the die change simple.

6) Complete machine: welded steel box, firm structure, no deformation, bracket and box are formed by pressure, high compactness (weight 6500KG), shape with sliding door design, beautiful and generous, convenient maintenance and operation.
Technical Parameter:
| | | |
| --- | --- | --- |
| | Description | PPBG-600 |
| 1 | Suitable Products | Disposable Plastic lids, clamshell boxes, plates, (egg) trays etc. |
| 2 | Suitable Material | PP, PS, PET, PVC and PLA |
| 3 | Max. Sheet Width | 640mm |
| 4 | Max. Forming Width | 600mm |
| 5 | Max. Forming Length | 500mm |
| 6 | Max. Forming Depth | 120mm |
| 7 | Max. Cutting Speed | 10-40 Cycles/min |
| 8 | Material Thickness | 0.1mm-1.5mm |
| 9 | Heating Power | 58KW |
| 10 | Motor Power | 28kw |
| 11 | Machine Total Power | 96kw |
| 12 | Power (3-phases, 4-wires) | 380V/ 50HZ (different voltage with different price) |
| 13 | Pressure of Water Supply | 0.2MPa |
| 14 | Water Consumption | 0.3m3/h (Tap water or Circulating cooling water) |
| 15 | Air Exhaust Volume | ≥1m3/min |
| 16 | Air Pressure | 0.6-0.8MPa |
| 17 | Machine Install Size | 7×2×2.4mm |
| 18 | Machine Packing Size | 7.2×2.2×2.6mm |
| 19 | Weight | 9000KG |
| 20 | Cutting Mould Type | Laser Knife |
Our services:
1.Warranty:1 year warranty after installation, if the spare parts is broken in the warranty period, we will send a free replacement parts as free.
2.Installation and training: we can send 1-2 engineers to install and set up the machine, but all the charges should be paid by buyer.
3.Quotation: valid for 60 days.
Packaging shipping: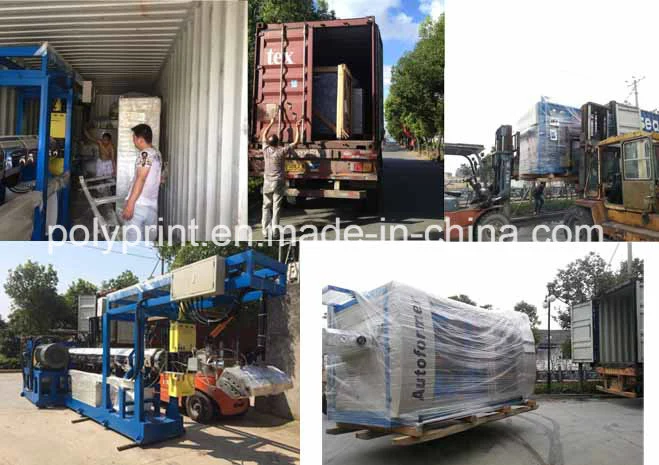 Company information:
Polyprint Machinery is one of the first company specialized in manufacturing extruder, thermoforming machine, plastic cup making machine, lid forming machine, cup lip curling machine, cup packing machine and cup printing machine since 2006.