SPE-760 Series Automatic Plastic Cup Thermoforming Machine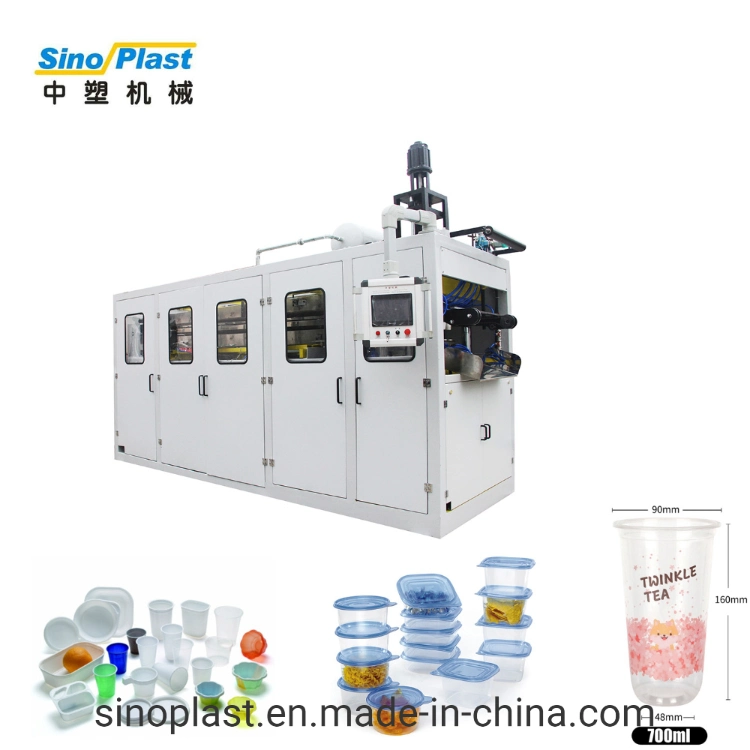 I. Usage:
SPC-760A Automatic Cam Plastic Cup Thermoforming Machine is mainly used to from PP/HIPS/PET/PVC sheet into various kinds of disposable plastic cups, such as hot/cold drinking cup, ice-cream cup, yogurt cup, milk cup, jelly cup, juice cup,etc. It could also make some regular shape products, such as plate, bowl, cover, dish, box, etc with different moulds.

II. Main Features:
1) The stretching of plugs inside of the upper mould are controlled by air cylinder.
2) The sheet feeding is driven by pin chain. The pin chain is controlled by motor with inverter and the feeding length can be set through touch screen.
3) It adopts four pillars to fix the mould. We could adopt four pillars to fix the mould.
4) The up mould is fixed and the mould plate movement is driven by toggle cam system.
5) The temperature of each zone is controlled by Temperature control module.
6) The production process include sheet feeding, heating, plugs stretching, forming and in-mould cutting and blow final products out.
7) We adopt square steel to make the machine frame stronger.
8) The machines is controlled by PLC and touch screen.

III. Main Technical Parameter:
Model

SPE-760A

SPE-760B

SPE-760C

SPE-760D

Max. Forming Area

760 x 320 mm

760 x 320 mm

760 x 420 mm

760 x 420 mm

Max. Forming Height

160mm

Example

Cup Top Dia.=75mm, 24cavities/mold

Cup Top Dia.=75mm, 32cavities/mold

Running Speed

15-32 cycles/min(according to sheet thickness, material used and product shape)

Sheet Thickness Range

0.20 - 2.0 mm

Required Material

PP, GPPS, HIPS, PET, PVC, PLA, Biodegradable Sheet

Max.Forming Depth

160 mm (Can be custom made)

Lower Mold Movement

11KW Servomotor

15KW Servomotor

Max. Sheet Reel Dia.

800 mm

Heating System

Top + bottom (10x9+9x9=171pcs), 800W/pc
Heating with IR Ceramic Heater
Top + bottom (12x9+11x9=171pcs), 800W/pc
Heating with IR Ceramic Heater

Temperature Control Method

Temperature Controller and Temperature Control Module

Water Consumption

0.5-1.0m³/h(recycled)

Air Consumption

1.3-1.6m³/min, 0.6-0.8Mpa

Sheet Feeding Method

2.2KW Motor

2.2KW Servomotor

4KW Motor

4.4KW Servomotor

Plug Stretching Method

Air Cylinder

5.5KW Servomotor

Air Cylinder

7.5KW Servomotor

Power Voltage

3HP 380V±10V 50HZ

Approx. Dimension

5000×1400×2400mm

5000×1400×2400mm

Approx. Weight

8000KG

9000KG
Please contact with me to get quotation with detailed specification!