PS Foam plastic polystyrene foam take away food container lunch box absorbent tray egg tray dish disposable thermocol plate false ceiling tiles wine tray vacuum forming machine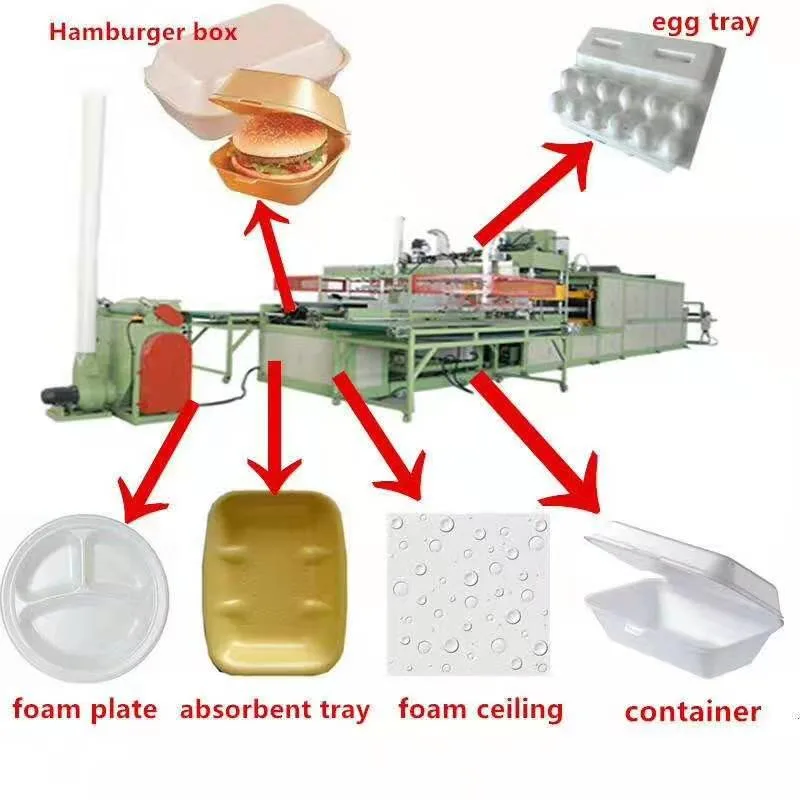 Longkou Haiyuan Plastic Machinery Co.,Ltd speclialized in foam thermoforming machine for about 20 years:In our factory, we produce not only machines but also PS foam products.when you visit factory, you can see the running machines
Our machines advantage:
A.chain track: our company patent (aluminum alloy),less noisy, wear-resistant ,light weight, long working life.
B.All of the electrical appliance,mould information, temperature control mould are controlled by PLC.
C.The touch screen can storage more than ten sets mould information with memory function and can memory all the temperature control. When we change the mould, we needn't to set the data again, we can directly call out the data, it is easy to operate.
D.heating box has good heating preservation, and save electricity(power),energy and make products heated evenly.
E.heating box can be pushed aside and easily to repair.
F.heating box includes 3 parts.2 parts are heating pipe, it is not easy damage.1 part is ceramic heating tile, heating tile working life is half a year. If power off/on casually, it will be damaged easily.
G.heating box adopts hydraulic system control and easily repair. Hydraulic system is designed by haiyuan, easy to repair. Mixer door by the magnet to control.
The whole production line include 3 parts:
1.PS foam sheet extrusion line
2.fully automatic vacuum forming machine
3 Crusher and recycling machine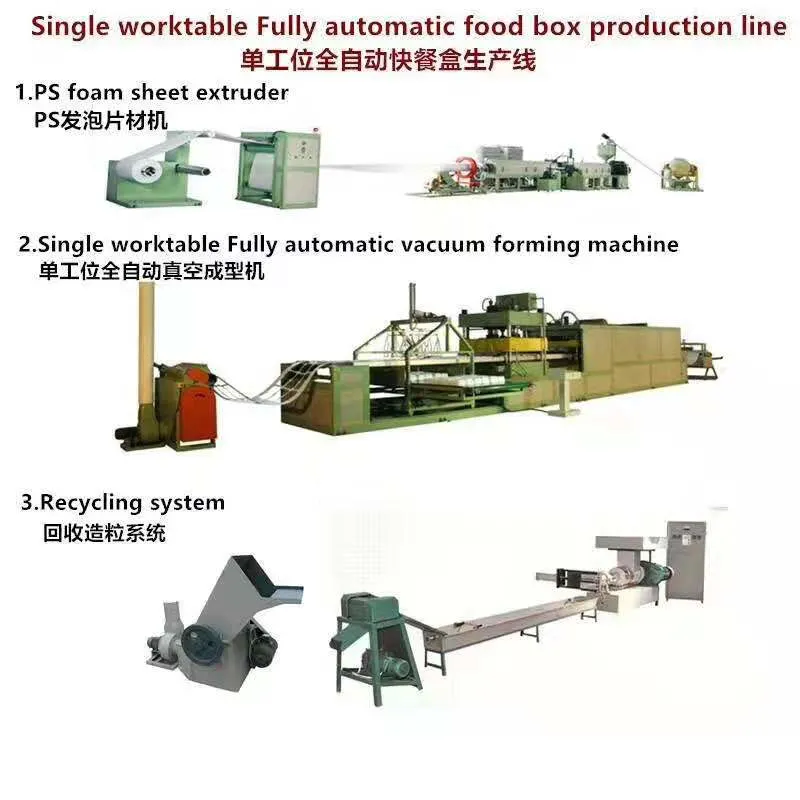 1.PS foam sheet extrusion line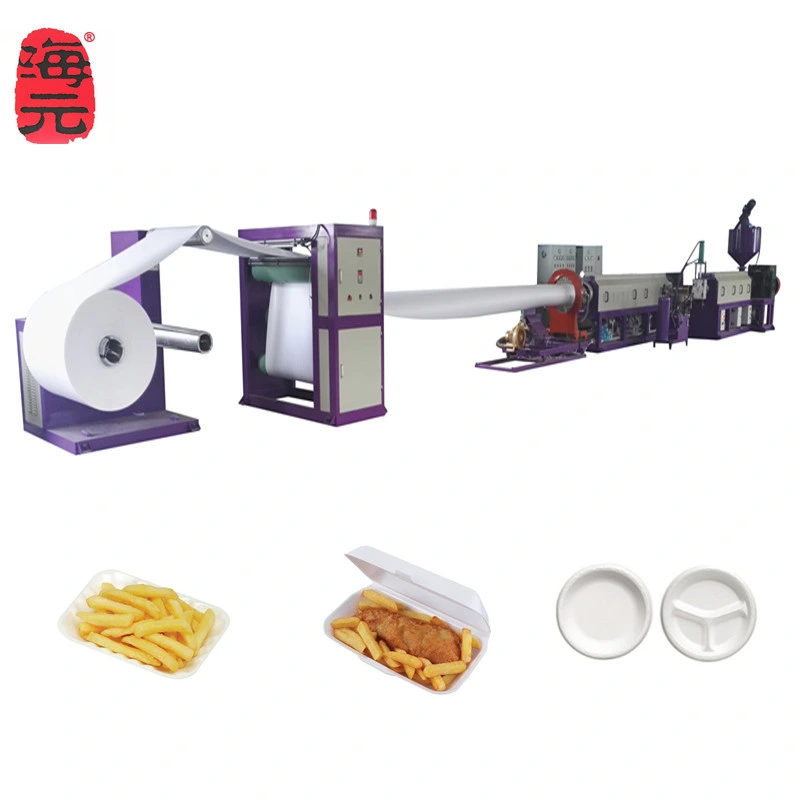 extruder technical flow:
1.material mixing---2.material go into extruder 1 (foam agent)--- 3.net exchanger (filtering)---4.material go into extruder 2 --- 5.sheet extruded from mold head----6.cooling and shaping ---- 7.hauling off-----8.winding----9. finished products----10. packing
The raw material is general polystyrene granule.In the extruding process, vesicant is injected at high pressure, After extruding, foaming cooling,shaping and hauling off,it is winding to finished ps foam sheet rolls.After vacuum forming systerm,the finished PS foaming sheet can be made into varitey of packaging vessles. such as ps foam thermocol plate, tray, dish, box, conatiner, bowl, absorbnt tray, dish, plate, foam ceiling etc.
parameter
paremeter
unit
HY-75/90
HY-105/120
capacity
kg/h
80-100
200-240
sheet thickness
mm
1-4
sheet width
mm
640-1080
foaming rate
10-22
cooling method
wind&water cooliong
cutting method
single
butane gas presure
mpa
0.9-1.2
installation power
kw
150
180
installation demension
m
24*6*3
30*6*3
power supply
380v50hz 220v60hz
2.Fully automatic vacuum forming machine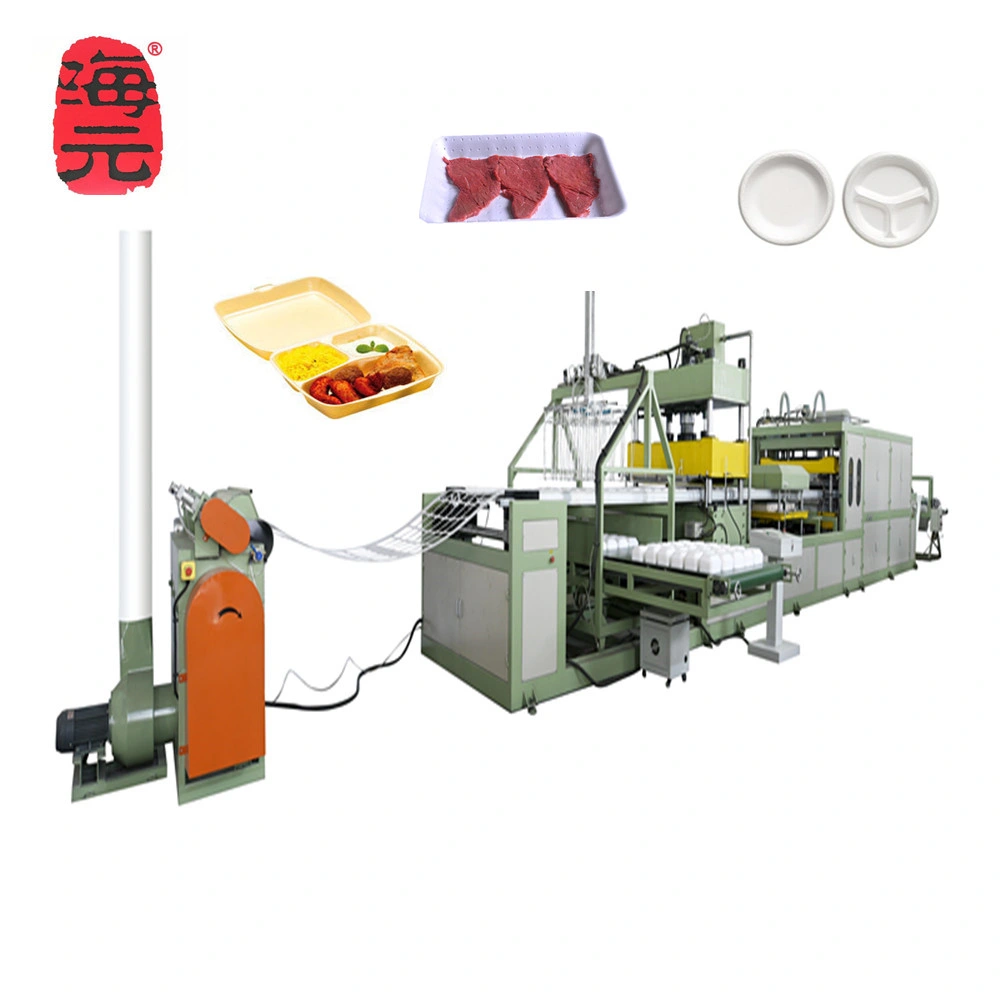 Fully automatic vacuum forming machine ingegrate forming, cutting, stacking at the same time, also the foam products could come out automatically, it is vacuum forming as well as press forming and synthertically forming, It can be used for processing all kinds of plalstc sheet.It adopts PLC controller and touch screen to control the working programmer. it is easy to operate and features high degree of automation.
Our fully automatic vacuum forming machine can produce different shape containers by changing mould.such as: ps foam thermocol tray, plate, supermarket dish, pizza box, hamburg box,bowl, foam absorbent tray,dish, plate, ps foam ceiling, egg tray, wine tray etc.
parameter:
parameter
unit
HY-1100
HY-1250
HY-1400
forming area
mm
1100*1100
1100*1250
1100*1400
cutting off height
mm
160
production efficiency
s/die
3-6
installation dimension
m
19*6*3
21*6*3
24*6*3
installation power
kw
160
180
200
power supply
380V50HZ 220V60HZ
Now in our factor, we aslo can produce PS foam absorbent tray making machine, this kind of tray used in supermarket to put fresh meat, such as beef, chicken,fish etc.this kind of plate with hole can absorb blood water.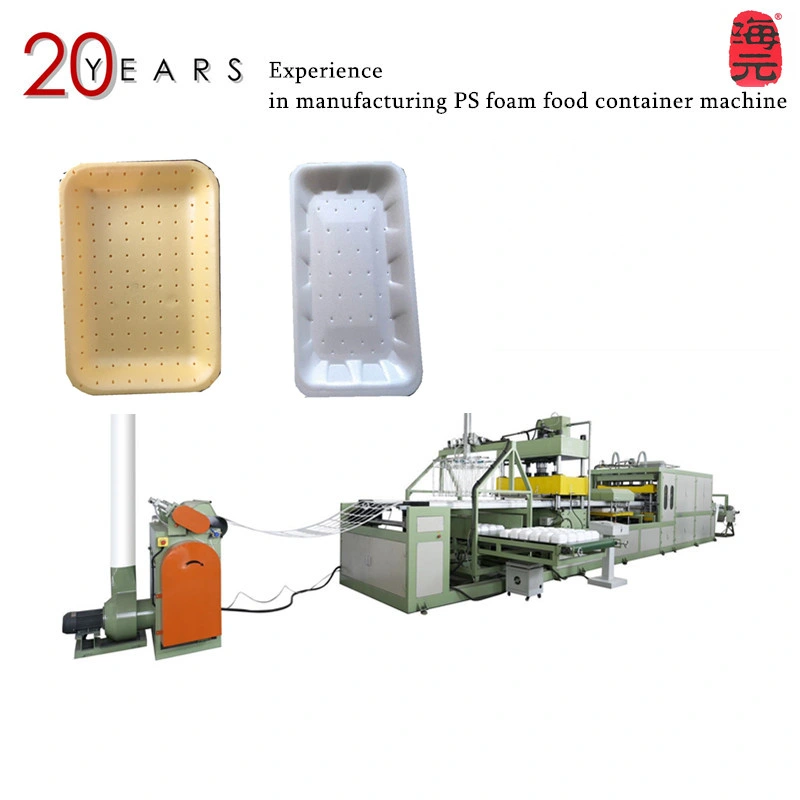 3.recycling machine
recycling machine is mainly used to recycle the ps foam polystyrene poducts.It is the ideal equipment to recycle the waste materials,This equiment features compact structure and easy operationg, The scrap pieces can be directly used to make granulation without comminting,At present, it is the ideal eneray-saving equipment to let the material circulation and reduce the waste.
parameter:
| | |
| --- | --- |
| parameter | HY-125 |
| screw diameter | 125mm |
| installlation power | 30kw |
| dimension | 8*3*2mm |
| weight | 1.5t |
| power supply | 380v50hz 220v60hz |
4.machine products:
PS foam thermocol food plate, tray, dish, container,pizzabox, hamburg box,bowl, ps absorbent tray, egg tray, wine tray, foam ceiling,supermarket dish, supermarket tray,cake tray etc.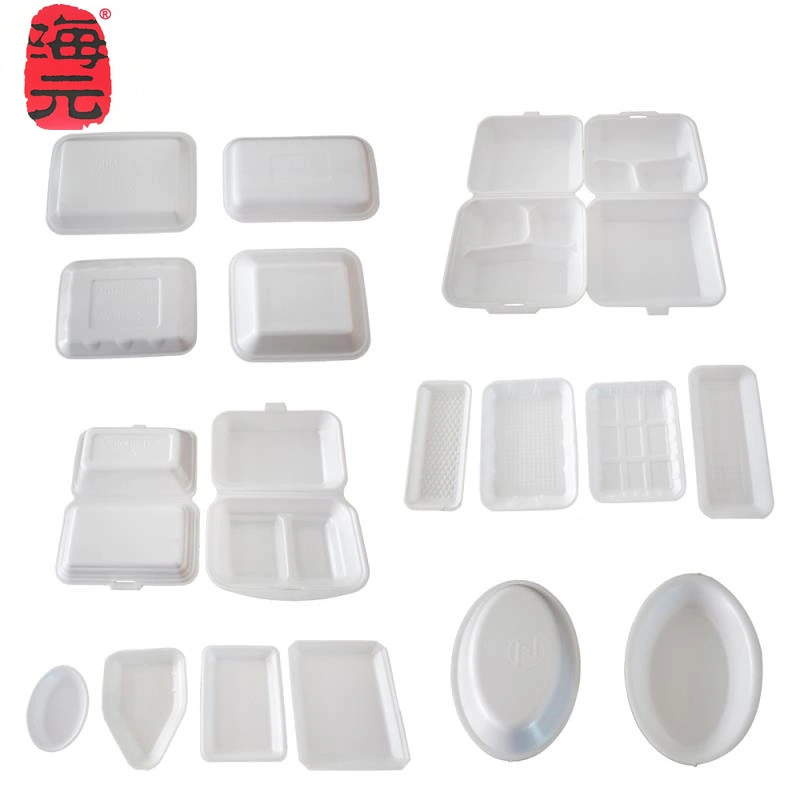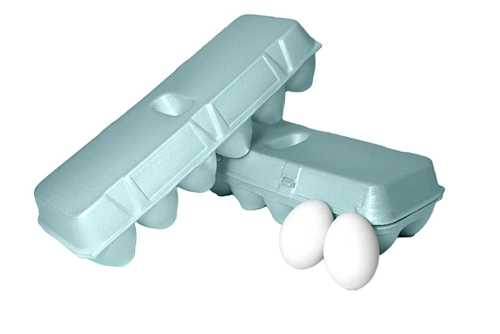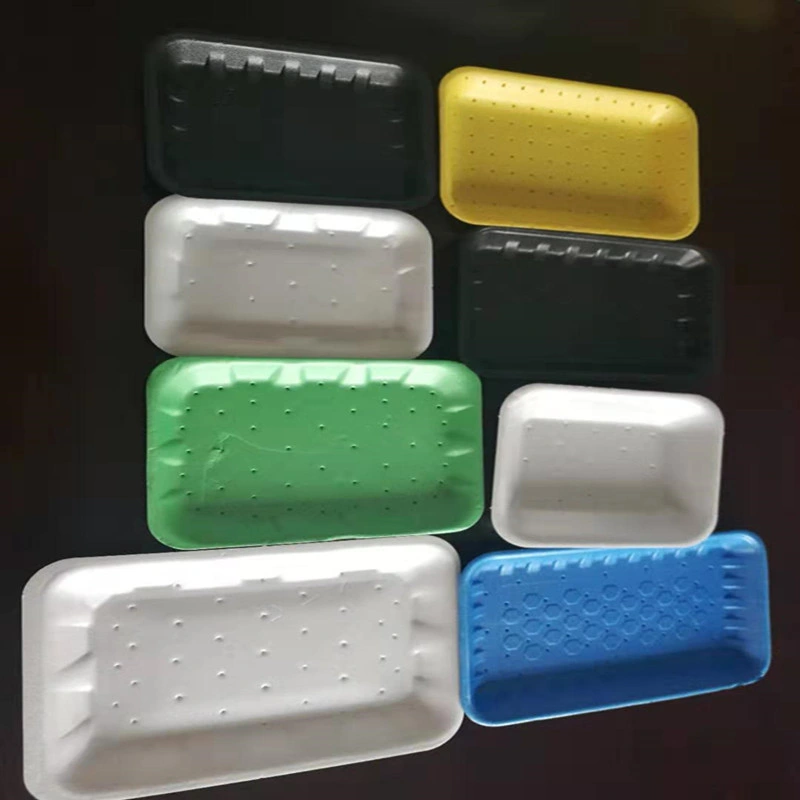 5.certifications: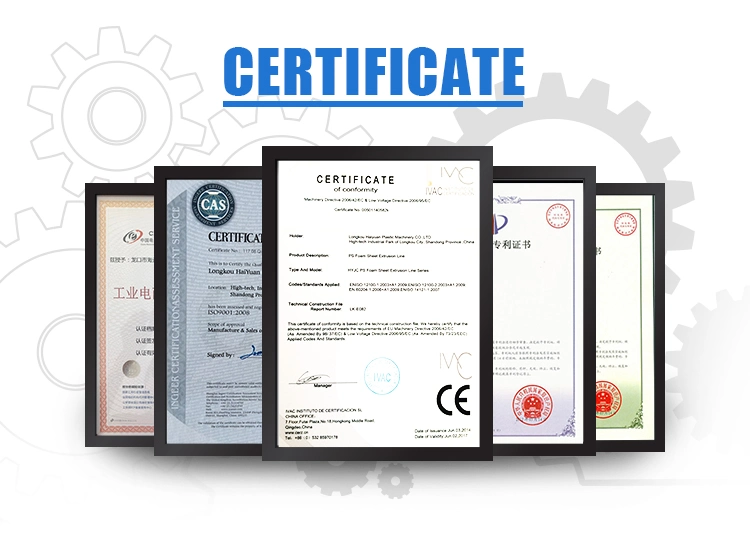 6. our factory:
Longkou Haiyuan Plastic Machinery Co.,Ltd founded in 1999 is a professional manufacturer in producing PS foam sheet extrusion line,PS fast food box (disposable products) production line disposable take away food container, foam thermocol plate tray box making machine, PS foam disposable food box plate, absorbent tray dish making machine.foam foam false ceiling maching machine etc.With strong technical strength and abundant experence,basis on advance,technology from domestic and abroad.our machines are already exported to Russia, Iran,India,Malaysia,Turkey and Thailand etc.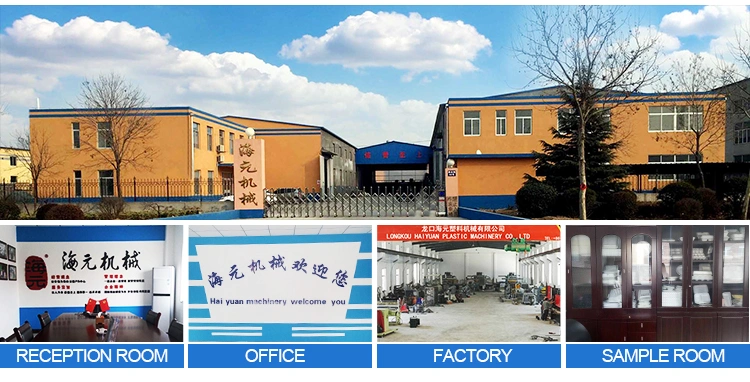 7.Packaging& shipping
packaging:standard package for export
shipping:from Qingdao port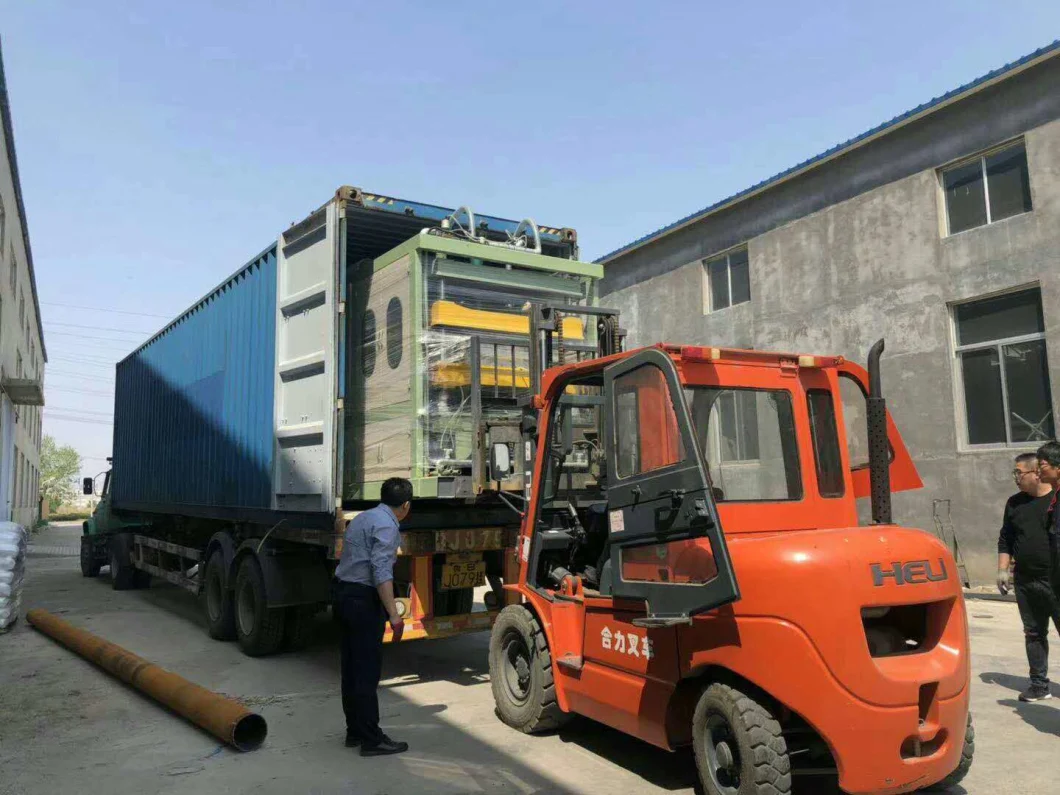 8.FAQ
1.Q:Whether your products export?
A:Yes.We exported to Turkey,England,SaudiArabia,India,Africa,South Africa,Brazil,Egypt,Venezuela,Zambia etc.
2.Q:Can you give me the lowest price?
A:No.We can't give you the lowest price,but we could give you top quality.If you think our price
higher than others,we can explain why it worth this price.We prefer to take the time in advance
rather than afterwards.
The excuses for bad quality like to you apology is wasting us time.If just for the pursuit of profit,
we will get your order quickly through lowing the price.But many manufactures lack proud product
in order to pursuit our promise.We would not betray our future because of short-term benefits,this
is not the final purpose of business.
We will definitely not throw out our future for immediate interest.We hope to keep long-term
cooperation with our customers not one time benefit.
3.Q:How will you treat quality complaint?
A:First of all,our quality control will reduce the possibility of quality problem near zero.If this is
a really quality problem caused by us,we will send you free goods for replacement,or refund your loss.
4.Q: How do you after-sale service word if the product got damaged?
A:In the guarantee time 12 months,our general after-sale service is changing the damaged parts for
the customers,but if the damage can be repaired by slight cost,we would wait for the customer's bill
for the fix cost and refund this part of cost.(note:vulnerable part do not include)