Products Description:
PPBG-650 automatic positive and negative pressure molding machine is our company combined with the domestic and foreign plastic machinery industry advanced technology independent research and development of a fully functional automatic model, perfect completion of the plastic industry a major innovation, is the traditional plastic machine update model.
This machine adopts the method of laminating heating, adopts the technology of moving film punching, no secondary pollution, high sanitary level, high production safety coefficient, saving labor, the equipment set positive pressure/negative pressure/positive and negative pressure automatic molding, punching, cutting, manipulator grasp stack counting in a production line to complete continuously, automatic conveying products.There is no need for manual punching, manual cutting and other subsequent processing procedures, reduce a series of quality problems caused by manual punching and cutting and cumbersome subsequent procedures, save the site, reduce secondary pollution, save labor costs, product quality has been greatly improved.
This model is suitable for production of high demand on all the blister products: blueberry box, fruit box lid, fresh food tray, moon cake tray, disposable fast-food containers, disposable food containers, Instant noodle bowl cover, milk tea lid, coffee lid, beverage cup lid, ice cream cup, jelly cup, packing box, daily necessities blister packaging, medicines and drugs blister packaging, wine packaging, electric equipment blister packaging etc.Bright and clean cutting edge, uniformity of thickness.
Feature:
1. Adopt laminated heating with ultra-low energy consumption.The maximum power consumption of the equipment is only 8 kW/h, and the product can be up to 150 kilograms of products.
2. Save the edge material, servo drive clamping feed, edge material only 10mm wider than the sealing ring can be smoothly produced, laser knife cutting, heating knife plate, no plastic powder.
3. Grasp the finished product in the mold, and use the mechanical hand to grasp the completely cut product and send it to the conveyor belt, with the accumulative counting function, to solve the problem of product even point burr.
4. Compact structure and small floor space.
5. Automatic feeding, with fast feeding platform, no need to stop the feeding.
6. X-shaped curved arm structure with horizontal stabilizer bar features stable operation, long service life and simple maintenance.
7. The unique oil circuit design of the whole machine can automatically and continuously lubricate and recycle the lubricating oil.
8.It can produce PLA, PVC,PS, PET etc. All kinds of covers.
Technical Parameter:
| | | |
| --- | --- | --- |
| 1 | Suitable Products | Disposable plastic lids,egg trays,clamshell boxes,plates etc. |
| 2 | Suitable Materials | PET,PVC,PS PLA sheet |
| 3 | Thickness Range | 0.1-1.5mm |
| 4 | Stroke Range | 30-440mm |
| 5 | Max. Forming Depth | 80mm |
| 6 | Max. Forming Area | 620×420mm |
| 7 | Industry Voltage | 380V/50Hz (Three Phase, Four Wires) |
| 8 | Total Power | 28kW |
| 9 | Max. Speed | 10-40 Cycles/Min,with the robot max.25cycles/Min |
| 10 | Max. Cutting Force | 30Ton/0.8Mpa |
| 11 | Air Pressure | 0.5-0.7MPa |
| 12 | Air Consumption | ≥ 0.3 m3/h |
| 13 | Cooling Water | Normal Tap Water Recycle Cooling |
| 14 | Noise | <75Db |
| 15 | Machine Dimension | 7300×1500×1820mm |
| 16 | Machine Weight | 4300kg |

Our Services:
1.Warranty:1 year warranty after installation, if the spare parts is broken in the warranty period, we will send a free replacement parts as free.
2.Installation and training: we can send 1-2 engineers to install and set up the machine, but all the charges should be paid by buyer.
3.Quotation: valid for 60 days.

Packaging Shipping: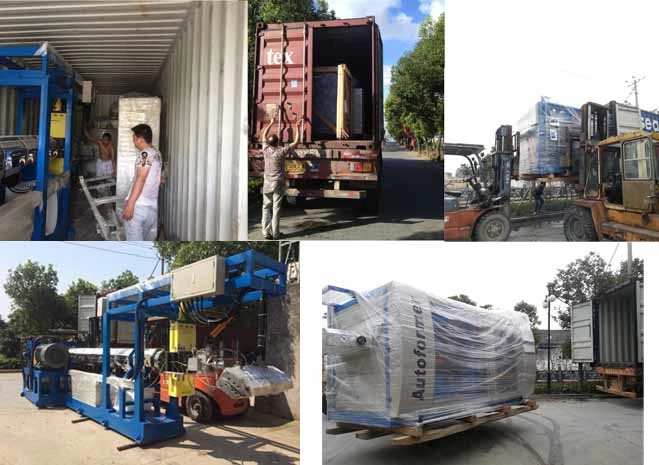 Company Information:
Polyprint Machinery is one of the first company specialized in manufacturing extruder, thermoforming machine, plastic cup making machine, lid forming machine, cup lip curling machine, cup packing machine and cup printing machine since 2006.