Advantages
High efficiency, at least 10000 packages per day.
Safe and easy to operate with PLC touch screen operating system.
Outstanding packaging with customized forming mold and functions for automated packaging.
Provide full after-sale service, engineers are able to service overseas.
Machine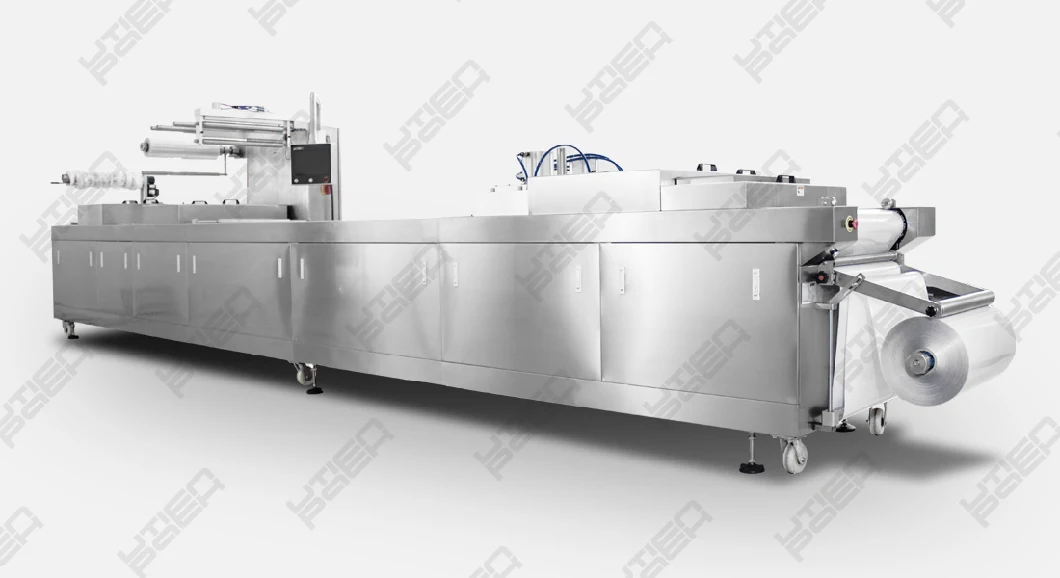 Automatic Production
Highly integrated package machine with tray forming, product filling area, sealing, gas flushing and die cutting. Reduce the risk of contacting insanitary source.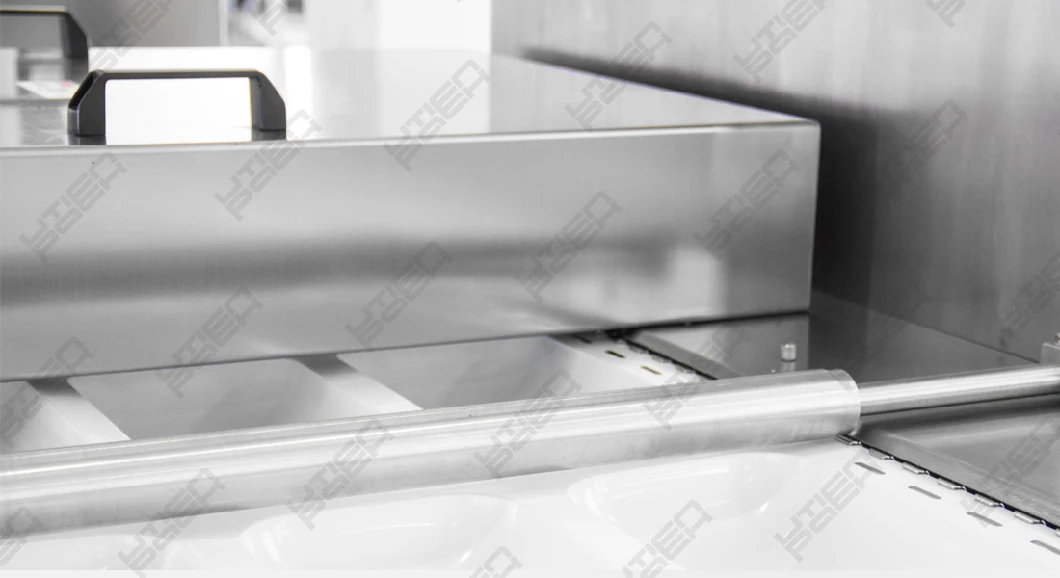 Safety
To ensure the security of people and property we make several design on the machine such as stainless steel cover for different section to keep the hand out of moving parts. Safety sensors are installed under the cover, inside the door and other removable parts to make sure the machine can auto-stop while the covers and doors are open.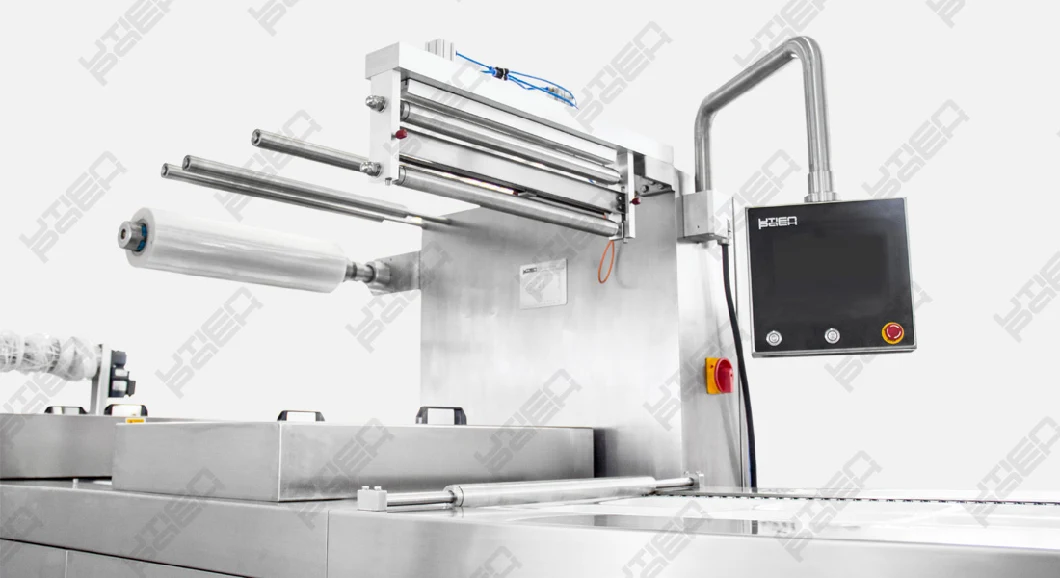 Easy Operating
Large size 10" touch screen make the operation easy and safe. The system is simple to learn and easy to use. The machine also have easy mold changing design which makes the mold changing fast and easy.
More Pictures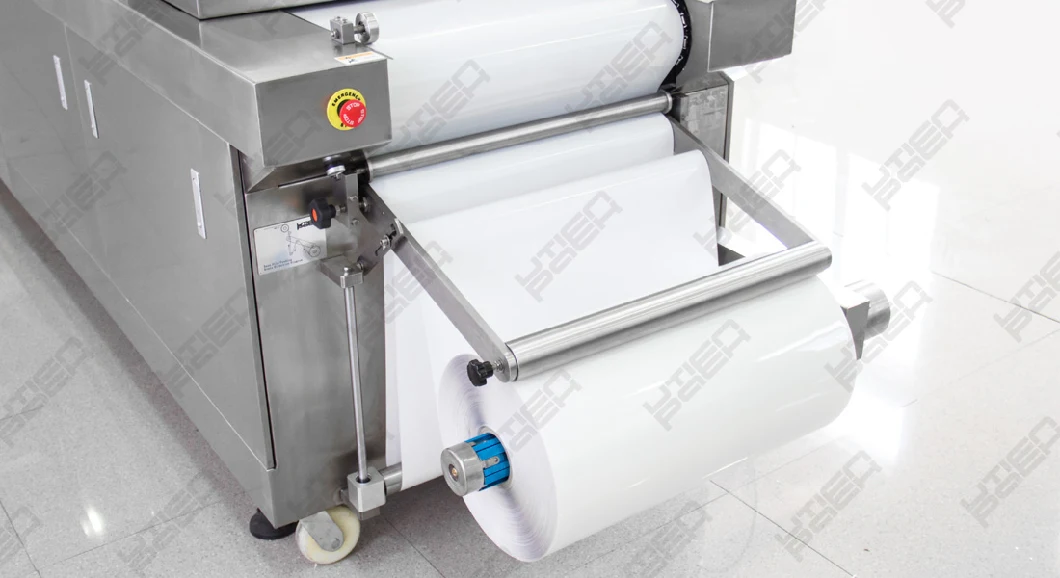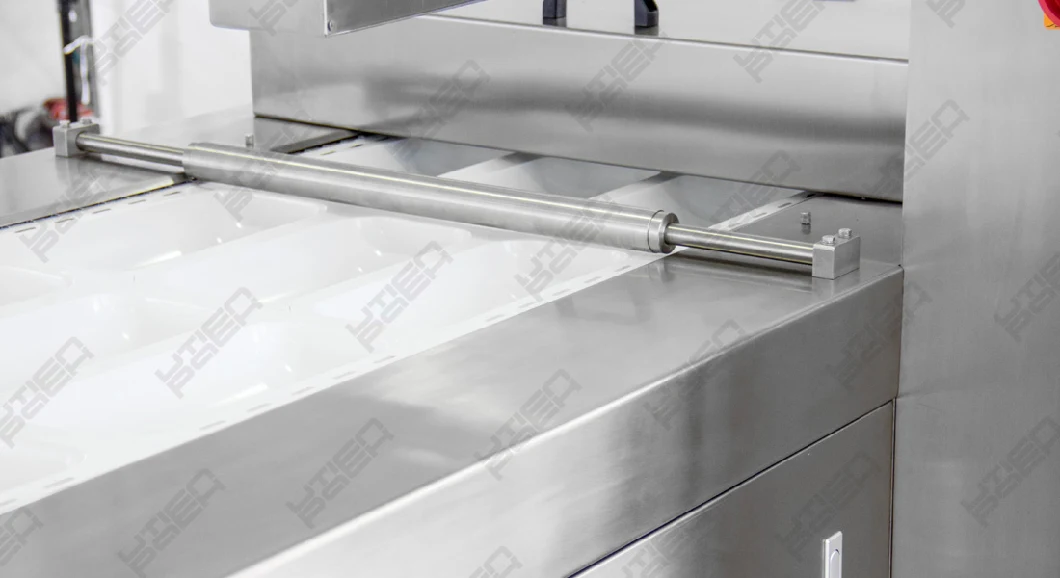 Working Schematic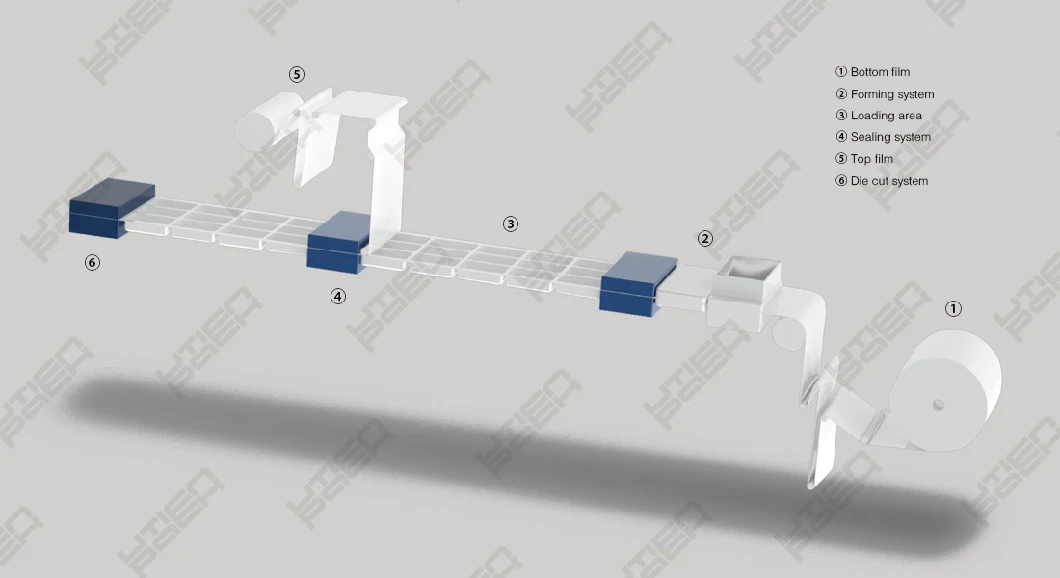 This machine is based on thermoforming technology, which heat and forming the bottom tray of the package from a roll of plastic film which is multi-layer co-extruded film. Different working section work at same time makes the procedure fast and less defects.
Technical Data
Machine Parameters

Dimensions

6000mm*1300mm*1870mm

Weight

2000kg

Working Height

1000mm

Operating Panel Height

1600mm

Loading Area Length

1500mm(Customizable)

Working Parameters

Bottom Film Width

≤520mm

Advance Length

≤500mm

Forming Depth

≤150mm

Top Film

Material

Sealable PE\PA Multi-layer Co-extruded Plastic Film

Print

Pre-printed Top Film or Transparent Top Film

Roll Diameter

250mm at most

Thickness

≤200um

Bottom Film

Material

Sealable PE\PA Multi-layer Co-extruded Plastic Film

Print

Unprinted Color Bottom Film or Transparent Film

Roll Diameter

500mm

Thickness

≥300um

Components

Vacuum Pump

BUSCH(Germany)

Electrical Components

Scheneider(French)

Pneumatic Components

SMC(Japanese)

PLC, Touch Screen & Servo Motor

DELTA(Taiwan)
The parameter in this sheet is for reference only, some of the data may be different with different case.
FAQ
Q1:How long does it take to deliver the machine after the order & deposit?
A1:Usually it will take 90 working days to manufacture the machine and make it ready to deliver. At first 30 days the technical drawing will be made. The second 30 days start manufacturing the parts and ready to assemble. In the last 30 days the machine will be assembled and tuned to make sure it is ready to deliver.
Q2:What do you need to make a specific offer for my product?
A2:To make a special offer we will need the dimension(s) of the package(s) you want to use on this machine. We also need the approximate production volume you need per day. If with other special request please also inform us before we make the project.
Q3:Can you offer oversea service?
A3:Yes, if request. But we suggest online problem solving at first. If the problem still shows we can arrange engineer to go to your factory personally to solve the issue.
Utien Pack
Company profile
Utien Pack Co,. Ltd. Known as Utien Pack is a technical enterprise aiming at developing highly automated packaging line. Our current core products covered multiple products over different industries such as food, chemistry, electronic, pharmaceuticals and household chemicals. Utien Pack is founded in 1994 and becoming a well-known brand through 20 years' development. We've achieved 4 national standards drafting and have more than 20 patent technology. Our products are produced under ISO9001:2008 certification requirement. We build high quality packaging machines and make a better life for everyone using the safe packaging technology. We are offering solutions to make a better package and a better future.
Copyright @ Utien Pack Co., Ltd. 2016
255 Shuguang Road, Kebei Industrial Zone, Shaoxing, Zhejiang 312081, China
UTIEN PACK