Product: Automatic Film Thermoformer Vaccum Gas Filling Packing Machine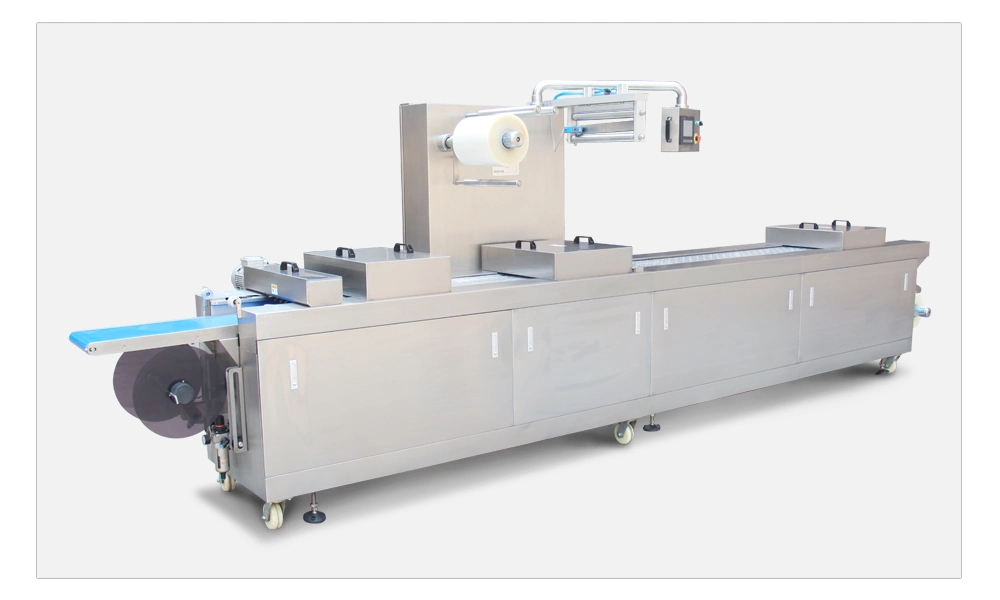 Introduction:
The Utien DZL thermoforming packaging line is designed for maximum output and used in food industry frequently. The new model of thermoformer redefined high durability and high work efficiency.
Features:

·Stainless steel construction make the machine more durable and more smooth.
·New waste film collector.
·Touch screen control panel.
·Easy accessiblity of machine frame.
·Flexible in use of material, mold and cutting system.
·Patented cutting knife.
·Modular design.
·Friendly to most of additional mechanism,such as filling system,conveyor system,
printing system,with options below:
- Filler
- Weigher
- Vibrator
- Recycle Water Cooling System
- Photoelectric Sensor
- Printer
- Additional Vacuum Pump
- Power Voltage customized
Multiple choices for thermoform films:
- Flexible and rigid containers
- Sealable monofilms, multilayer films, foamed films,
laminates with an aluminium layer, paper and Tyvek webs
Advantages.

Stainless steel construction make the machine longer lifetime.
Advanced film infeeding system make the folling film smooth and strong enough
for thermoforming.
Large touch screen PLC operating system provide maximum possibility for
controling the machine.
Maximum safety protection.All the function section is covered with steel cover
prevent worker from being hurt.
Customizable in size,loading area,printing area adjustable for special need.
Patent punch cutting mold can make the edge of tray much more smooth.
Minimum (20mm×50mm) and maximum (600mm×300mm) size modified, various
kind of product or amount of product can be packed.
With the world's most advanced technology of thermoforming system,packing
depth can reach 150mm (max)
(if the short side length is less than 150mm, the depth is less than the short side length
by 0.6; if the short side length exceeds 150mm, the max depth is 90mm.)
Hygiene.

The smooth steel outer surface is easy to clean.The machine has no sharp edges,
corners or grooves.
All components are easy access to remove and clean.
Every bolt is easy to clean, no living condition for bacteria.

Technical Data: